featured events/seminars
Lubrication Maintenance Seminar - Ypsilanti
9/8/2016
Topics include Grease, Oil, Preventive Maintenance Scheduling, Bearings, Drive Components and more.
Note: This seminar is also being offered on September 20th at the North Kent Sewer Authority in Grand Rapids.
Registration: 7:45 a.m.
Event starts: 8:15 a.m.
Event ends: 4:00 p.m.
*Space is limited to 45 attendees at each location.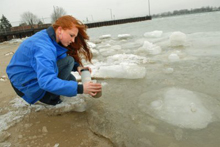 Fund. of Maintenance Practices II - Midland
9/22/2016
Grace A. Dow Memorial Library - Midland
Registration: 8:00 am
Class begins: 8:30 am
Class ends: 4:00 pm
This course is worth 0.6 Technical Wastewater and Drinking Water Credits.
what's happening at the michigan water environment association
2017 Wastewater Administrators Conference
CALL FOR ABSTRACTS
WWAdCon is taking place January 26 - 27, 2017 at the Bavarian Inn in Frankenmuth
**Abstracts must be submitted by August 19, 2016**
This conference provides the opportunity to interact with superintendents and administrators from across the state. The agenda will include presentations and open discussion from attendees on topics to maximize the learning potential.
Abstracts are being sought for the technical program. Topics are requested for the following presentation categories:
Energy Management
Instrumentation and Controls
Treatment Innovations
Operations and Maintenance
Research
Safety
Groundwater
Membership in MWEA is
not required
for presentation. Please submit a brief (1 page) written abstract summarizing the talk along with presentation title & the
presentation information form
---
---
Register today for the fall MWEA Seminars:


(Note: some agendas are still being finalized and will be posted soon)
Lubrication Maintenance Seminars
(offered at 2 different locations)
Thursday, September 8th ~ Ypsilanti Community Utilities Authority WWTP
(OR)
Tuesday, September 20th ~ North Kent County

WWTP

- Grand Rapids
Northern Michigan Operators Seminar
Thursday, September 29th ~ Otsego Club and Resort - Gaylord
IPP Seminar
Thursday, October 6th ~ Eagle Eye - East Lansing
Sustainable Energy Seminar
Thursday, October 13th ~ Eagle Eye - East Lansing
Collections Seminar
Thursday, October 20th ~ Eagle Eye - East Lansing
Health & Safety Seminar
Wednesday, October 26th ~ Eagle Eye - East Lansing
Process Seminar
Thursday, November 10th ~ Eagle Eye - East Lansing
Watershed and
Stormwater
Seminar
Tuesday, December 6th ~ Eagle Eye - East Lansing
---
All of the above seminars:
Member Rate: $130
Non-member Rate: $200
Exhibitor Rate: $225*

(Includes a continental breakfast and a buffet lunch)
*Price includes meals for 1 person, extra exhibitors are $30 each
Note: There are NO exhibitors for the Maintenance Seminars
---